MUMBAI: Land reserved for public roads and open spaces in Juhu Vile Parle Development (JVPD) Housing Scheme are for use of the general public free of cost. The 14 housing societies, comprising JVPD Scheme, cannot claim ownership rights on these plots, said Milind Mhaiskar, vice-president, Maharashtra Housing and Area Development Authority (Mhada).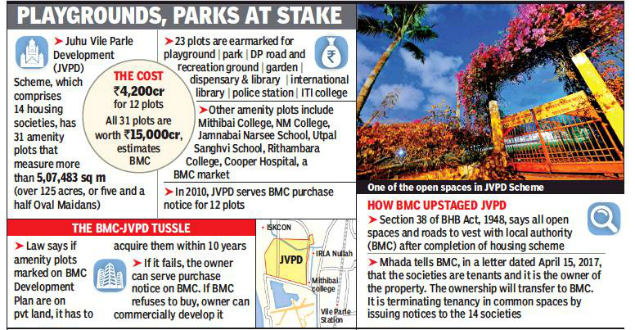 In his letter to additional chief secretary (housing) Sanjay Kumar, in July, Mhaiskar said on April 24, 1960, the Bombay Housing Board (BHB), Mhada's predecessor, had handed over 31 public amenity plots spread over 125 acres and worth over Rs 15,000 crore to the 14 societies and they are holding the same as tenants in common. In 2010, JVPD Scheme had served a purchase notice on the BMC for 12 such plots. But last April, Mhada said it is the owner of the 12 plots, valued at Rs 4,200 crore. Mhaiskar's letter stated that the 14 societies were misleading the BMC.
"For years, the repair and maintenance of these plots are being carried out by the BMC. Mhada or the societies should have handed over these plots to the BMC without charging anything," stated the letter. He added that the purchase notice served by the societies on the BMC is not correct because the transfer agreement clearly states they are tenants in common and not owners. However, the societies said the expression "tenants in common" describes the rights between co-owners of a property.
Maloy Bhatt, honorary secretary of the JVPD Scheme Association, said they were not aware of any letter by Mhaiskar to the government. Last year, in response to a legal notice from Mhada to cancel the tenancy of the 14 housing societies on public roads and open spaces, the societies claimed they have been owners of the land for the last 55 years.
Mhaiskar said since JVPD Scheme was approved under the erstwhile BHB Act, 1948, it is necessary to carry out the correction at the government level. "The conveyance is bad in law and the correction deed should withdraw all public utility and amenity plots from Mhada and vest its ownership in the BMC and modify the original agreement. In the meantime, it is important that the government urgently stay the process on the purchase notice issued by the societies," he said.
In September 14, BMC chief Ajoy Mehta wrote to the housing secretary that in the light of Mhaiskar's letter, "the government may give directions under the BHB Act to declare the vested ownership of the BMC for all public roads and open spaces in JVPD Scheme".