Patra chawl residents gave up their homes in 2010 for redevelopment but the developer allegedly resold the land to seven other developers; MHADA bound by court order to not take coercive action.
60-year-old George Raphael, on the verge of retirement from a printing facility, is really worried about the future of his family. An original tenant from Siddarth Nagar Patra Chawl redevelopment project initiated by MHADA in Goregaon West, Raphael and his family vacated their home in 2010 with 671 others and has been living on rent ever since. Eight years later, all that stands on the plot are half-constructed shells with no sign of completion as the entire project is in limbo due to litigation.
"Eight years ago, when the developer Guruashish Constructions ran the bulldozers over Patra Chawl, the monthly rent given to us was Rs 18,000. Now it is well over Rs 40,000, which I haven't received since April 2017. It is only because my younger son is employed that we have survived so far," says Raphael, whose 32-year-old elder son, an MBA employed with a hypermarket, was diagnosed with brain cancer in 2015 and underwent two operations in two years. With the developer refusing to pay the rent, the family has been struggling with the finances.
"They have stopped paying rent to those who raise questions about the project. We can neither go back nor sell the tenement," says Raphael, who will retire in a few months this year.
After the project construction stopped in 2015 and the rent stopped coming in 2017, the matter reached Chief Minister Devendra Fadnavis. The CM chaired a meeting on May 6, 2017 to resolve the issue. According to the minutes of the meeting, Guruashish promoter Sarang Wadhwan had presented a bar chart and assured that the rehab component would be completed by April 2018. However, the construction never resumed.
The project became a full blown problem in January 2018 when MHADA terminated the joint development agreement signed with the developer and sought possession of the entire 47 acres, alleging that the developer had fraudulently sold the free sale component to seven other developers.
Alarmed by the turn of events, the seven developers rushed to the High Court to seek relief and the HC directed MHADA not to take coercive action, but allowed the housing body to take possession of the land other than those sold to these developers.
Meanwhile, insolvency proceedings were initiated against Guruashish by United Bank of India before the National Company Law Tribunal (NCLT). The Insolvency Resolution Professional wanted the NCLT to restrain MHADA from taking possession of the land but its plea was rejected. Guruashish then moved the National Company Law Appellate Tribunal in Delhi, where its appeal is pending.
Makarand Parab, one of the 113 tenants who have formed the Goregaon Siddarth Nagar Patra Chawl Sangharsh Samiti, blames the mess on tenants' society Goregaon Siddarth Nagar Sahakari Grihnirman Sanstha Maryadit and its managing committee for allegedly playing ball with the developer. "The committee headed by Shivram Shinde should have demanded a corpus fund of Rs 25 crore and bank guarantee to protect the interests of the tenants."
When contacted, Shinde denied the allegations and said, "We settled for Rs 25 lakh which has grown to Rs 50 lakh in FDs."
Asked to respond to MHADA's allegations, Sarang Wadhwan of Guruashish Constructions said "We cannot comment on this right now as the matter is sub-judice."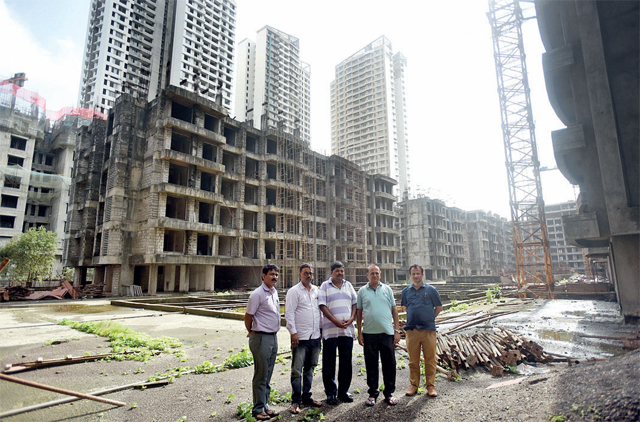 Highrises by other developers have gone up to 30 floors, but the Patra chawl rehab project is incomplete