Mumbai's skyrocketing property prices are likely to come down by as much as 25 to 30 per cent in the coming years. In the next five years, over seven lakh 2BHK housing units would become available in Mumbai, given the 'special project vehicles' model for redevelopment of Dharavi, which was passed by the state Cabinet on Tuesday.
"Dharavi is a dream project, and it will generate over 5 crore sq.ft construction space, worth roughly 60-80,000 housing units. The rehabilitation cost of this project run over Rs 22,000 crore. We are committed to bringing the down the soaring housing prices by 25-30 per cent," said housing minister Prakash Mehta.
The main hurdle to the project was the 70 acres of land held by the Railways. "Railway Minister Piyush Goyal assuring to hand over this land to the state government helped. Added to this, we got 20 acres of saltpan land for construction of transit camps," he said.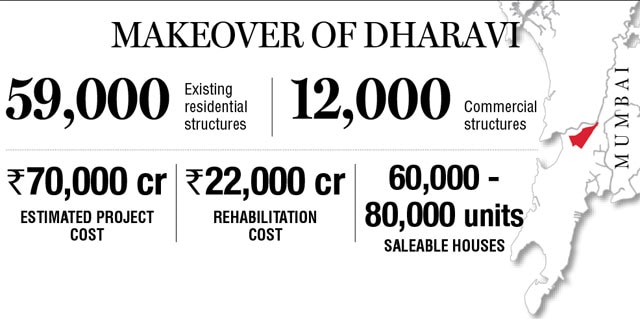 Besides Dharavi, the 94 acres of the BDD chawl redevelopment would also generate more than 8,000 saleable 2BHK housing units. "The Slum Rehabilitation Authority (SRA) has approved several projects, which are likely to generate 2.35 lakh more houses. Moreover, private and MHADA development would also create more than 3 lakh houses. So, in the next five years, we can see more than seven lakh additional houses in Mumbai," Mehta added.
Real estate experts, however, had a different take on this. "This mammoth project is unlikely to take off," said Pankaj Kapoor, MD, Liases Foras, a Mumbai-based real estate research firm, who added that such attempts were made earlier as well but nothing happened. "The government fails to understand that Dharavi is not a housing project, but an integrated cottage and commercial industry. Dismantling this well-settled scenario fabric isn't a good idea. No developer, Indian or foreign, has the financial capacity to undertake this project or putting in an initial Rs 25,000 crore to Rs 30,000 crore that is required. The chances of recovery are dim, considering the market is heavy and interest-ridden."