Ashoka Buildcon's Ahmednagar-Aurangabad Build-Operate-Transfer (BOT) road project has again received an extension from the Maharashtra government, this time by almost two years, up to November 2020. This may translate into toll revenue of around Rs 100 crore.
"We have received extension in concession period by 703 days for a couple of factors such as changes in the interest rate with respect to BLR and variation in the construction work carried out during the initial period of the project," Satish Parakh, managing director, Ashoka Buildcon told DNA Money.
The extension in the concession period comes into effect, starting December 19 and the toll collection period till November 22, 2020. This road asset is a wholly own subsidiary of Ashoka Buildcon.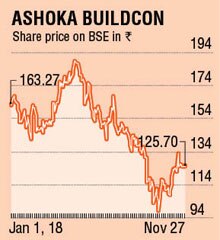 In the past, the concession period for the 168 km road project was extended on multiple occasions. It was to end in September 2016, but was extended by a year. Thereafter, yet another extension was given by three months up to December 2018.
"Those extensions were for other reasons, including interest rate change, but this may possibly be the last extension given to this project," Parakh said.
Four-laning of this state highway was completed in May 2008 at the cost of Rs 102.7 crore. The road project is under Maharashtra's Public Works Department.
In June 2015, Ahmednagar-Aurangabad road was included in the government's list of passenger vehicles and state transport buses that are exempted from paying the toll. As a result, the government is compensating the company loss of revenue every quarter. Approximately, about 20-25% of the vehicles using this highway are cars that are exempted from toll payment.
Given the estimated up to 7% increase in traffic annually, the Nashik-based company expects to garner Rs 40-60 crore annually or Rs 80 to 120 crore in the next two years due to the latest extension in concession period.
During the first half of this fiscal, the toll revenue from this project stood at Rs 16.46 crore.
In fiscal 2016, the gross toll collection for the project was Rs 20.6 crore, the subsequent fiscal it rose to Rs 27.2 crore; in fiscal 2018 the collection stood at Rs 27.8 crore.
TOLLING TIME
In fiscal 2016, the gross toll collection for the project was Rs 20.6 crore
The subsequent fiscal it rose to Rs 27.2 crore and was Rs 27.8 crore in the last fiscal.